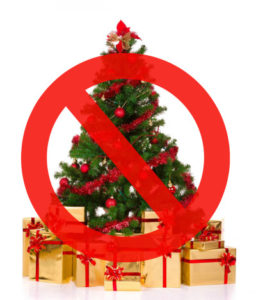 Christmas Is Canceled
It's not that the Christmas spirit isn't strong with this one. When I was a kid, I remember my father setting up toys for an entire Hoth battle scene in the bay window. It was complete with a snow speeder tied to string and pinned to the ceiling at a high angle of attack on an advancing AT-AT walker. He posed Luke, Han Solo and Chewie in the Hoth battle set with Vader and snow Stormtroopers in attack positions. He fluffed some white cotton pieces around the scene so it really came off well against the bay window that morning. It looked so good, I am certain he had a good time setting it up. So it is not like I never had a good Christmas. In fact, they've all been good. I still enjoy the smell of a fresh pine tree in the living room and cinnamon treats, or the sounds of Christmas bells and carols from the choir. But unless you're living in a 1950's Hollywood rendition of Christmas, as an adult the holiday is essentially reduced to freaking out about what to buy everyone. Sure, you can do it online to temper some of the pain, but being out in the world means joining a wide eyed and frantic consumer herd like cattle on their way to slaughter.

When my sister and I were kids, being away at college all year meant we really enjoyed coming home and being pampered a little. Without much money to speak of, I thought we needed things. And maybe we did, but in retrospect, I should have listened to my mother. So now that she's gone, we're taking her advice.  In my 4th decade of Christmases, I have to decide who to spend the holiday with, and for a family that is geographically or maritally split, logistics complicate things even more. I can actually remember my mother suggesting year after year that the family take a trip for the holiday instead. Plus, I don't really need anything that's a reasonable request from my family or friends. I need things like a deep dental cleaning, a new bed, or a car.
The Big Easy
My father was born in New Orleans. He goes back a few times a year to visit our relatives, retread his old stomping grounds in the French Quarter and leer at the cheerleaders during LSU games. My sister and I haven't been back in ages, and now that my sister's kids are a little older, the conversation about a trip to New Orleans over traditional Christmas was short.
"Let's go to New Orleans for Christmas with Dad"
"God please yes please yes can we?"
"…because Ella has never been to New Orleans, and I'd like her to meet Aunt Dolly and Uncle George and Darlene before too…"
"We'll fly together with Dad! We'll get an AirBnB! You can stay with us!"

(flashbacks of kids throwing ketchup)

"I think we'll drive…"

Now, we live in California, so driving to New Orleans is a commitment. It's definitely one of those things that's about the journey, but with a destination like New Orleans – well, that's more like icing on the cake. We found a killer deal at the Hyatt attached to the Superdome for around $60 a night. We booked the day before Christmas until the 30th. The plan was to set out a few days before Christmas, leaving on a Friday in fact, and all we had to do was make it to New Orleans by Christmas Eve. On the way back, we could stop in Austin, Texas for New Year's Eve, but the rest was all up in the air – including the car.
Meet Adolf
My wife's lease came to an end in December. That meant she needed to figure out what to drive next. Fortunately, the new Volkswagen Jetta was affordable and in tan and black, looked great as well. I won't get into the weeds about my exceptional negotiating skills and our wonderful buying experience here, but the long and short is this: At the start of December, we had a brand new, fuel efficient, high tech road demon on our hands. A 2019 Volkswagen Jetta SEL.

My wife – who is Russian – likes to name her cars. She named the last one Nigel, because it was born in England and she'd changed the navigation to the one with the British accent. The naming scenario for our new ride went something like this:

Ella: Screw it, let's get Adolf!
Chris: On behalf of the human race, that's a terrible name. Fritz, Dieter, Gunther, Heinrich, Klaus – there are plenty of others!

I can actually think of a million German names that seemed more politically correct. But after nearly a century, if the Russians can get over it, I guess so can I. Adolf it is.
Adolf has come a long way since Adolf's original. The people's car with an SEL trim boasts the same wrap around digital cockpit you'd find in an Audi, and new cars come with free XM radio. We didn't think much of it at  the time, but this Jetta also literally comes with a 3 body trunk.
It is massive. It was big enough for two big roll-around suitcases, all my wife's shoes, more of my wife's shoes, a few pairs of my shoes, which are all size 14, and all kinds of odds and ends like coats and food. At one point we even thought about bringing our cat. 

We didn't bring our cat.

But this was the cool thing about a road trip. You can bring everything if you want to. You don't have to worry about plane tickets, or delays, or getting to and from the airport. When you arrive in your destination city, you have a car. Plus you get to discover and visit all kinds of stuff along the way.  First stop? Phoenix Arizona.